How One Veteran Started His Own Asphalt Business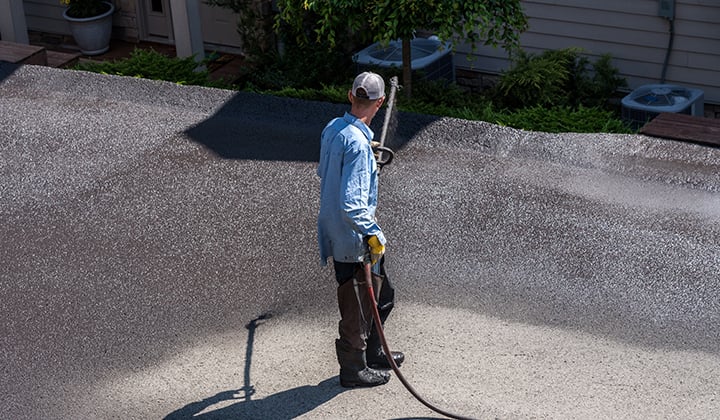 Many asphalt businesses are started by ordinary people who tried it and found they loved it. Take one of the many success stories: Veteran Kenneth Evans of Evans Asphalt & Concrete. He started with a few success tips from his cousin and now employs a couple of asphalt maintenance crews to handle his business expansion, all in a few years.
Background
Kenneth Evans obtained his bachelor's degree in accounting and then went into the Army to fly Apache helicopters. He flew them for 20 years. When Kenneth retired in 2015, he did what many Veterans do and held a few different jobs, most of which did not suit him.
Kenneth started his own company, Evans Asphalt & Concrete, in 2017. He had done some parking lot work previously. Additionally, his cousins also operate an asphalt maintenance business, and they helped him with success tips.
Tips for Building a Successful Asphalt Business
Kenneth Evans offered several success tips throughout his interview. These tips are valuable regardless of where you are on your journey starting an asphalt maintenance company.
Success Leaves Clues
Kenneth knew someone with a successful asphalt business and watched them succeed for years. Before he was a Veteran success story, his cousins talked to him about the business over the course of the years.
Kenneth also worked with his cousins directly in their asphalt maintenance business before starting his own. This experience gave him the knowledge of each business aspect.
Momentum is Key
Like many asphalt businesses, Kenneth's Veteran success story took some time to gain momentum. He persisted, and the company gained momentum. That's when he was able to build momentum.
Initially, Kenneth thought he would only work about half the month and make enough to live on. Now, he works full time taking care of customers.
Previous Work is a Calling Card
Kenneth attributes much of his success to doing quality work for people. His company primarily operates based on requests from previous work. This success tip means Kenneth does not have an enormous advertising budget.
The Work is There
Providing quality asphalt maintenance services is one of the success tips Kenneth offers. He says that the work is out there for companies who deliver a quality product and care about the customer results.
Outside Factors of Asphalt Maintenance
There are several outside factors in whether a company cares about asphalt maintenance on their lot. These external forces contribute to the success of any asphalt maintenance company.
Insurance and liability are one of the biggest drivers for Kenneth's business. Companies do not want to be liable for injuries in their parking lot. By patching and crack filling, companies reduce the chances for liability claims.
Lender requests are another contributor to the demand for asphalt maintenance companies. Since the lender has a financial stake in the business's success, many inspect the properties and provide action items. These are designed to maintain or increase the property value.
Another possibility is property owners maintaining the premises to attract more tenets or take care of existing ones. Taking care of the asphalt helps with the first impressions of the venues, protects the investment, and adds value to the property.
You Can Start on a Budget
Kenneth is proof of this success tip. He started his company with around $8,000 that he put on a credit card. Kenneth phrases it as something had to move to start, so he took the leap.
On account of his previous experience, Kenneth knew he could do it without machinery. However, he points out that it's backbreaking work that takes up a lot of time. He does not recommend that method of asphalt maintenance.
Graduate to More Capacity
Kenneth started with an AS230, a single RY10 Pro, and a small Titan line striping machine. Within the first six months, he needed more capacity and moved up to multiple crack filling machines. At that point, he had already made enough to make that investment.
Be a Pro
Kenneth states his top success tip is doing whatever you get into professionally. He believes in acting professionally and as a problem solver. Additionally, Kenneth noted that it was best to be yourself and not become a smooth, fast talker when discussing jobs.