5 Helpful Tips for Sealcoating at Night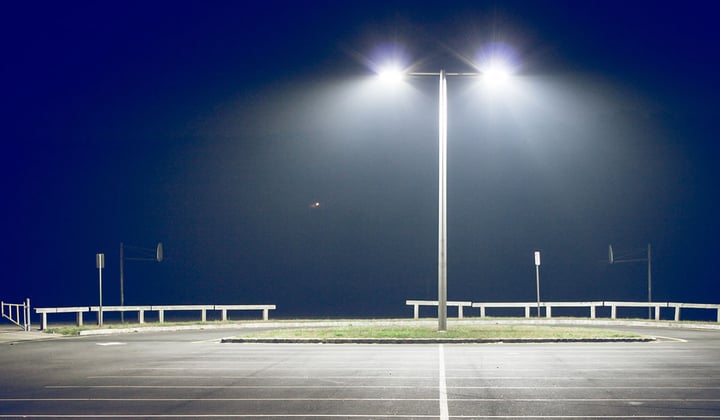 Asphalt maintenance is an excellent business opportunity for anybody who wants to be their own boss. But success in this field requires the ability to come up with ways of maximizing and expanding your services.
We talked to Justin Cole, founder of Cole Asphalt Maintenance who's built a thriving business in just a few years. One of the ways he was able to accomplish this is by taking advantage of an underrated service – night sealcoating.
But as you might expect, night sealcoating comes along with some challenges. To help you in this regard, we are enumerating five helpful tips for sealcoating at night.
1. If possible, visit the job site during the day
Blacktop appears different during the day than it does during the night, and your crew might miss certain surface features that they otherwise should be aware of before they start working. Inspecting the area beforehand can help prevent mistakes or inconsistent quality.
2. Make sure you have proper lighting and visibility
This might seem obvious, but we can't stress enough how important lighting is to night sealcoating. One thing you can do is to have light bars on your trucks. Another suggestion is to have battery-operated portable lights attached to vests. Having ample lighting at the job site means you will be able to see everything, including your team.
3. Use additives
Additives are solutions that can be combined with sealer to enhance its properties. One of the best additives to use is a fast-dryer like Diamond Shield Fortifier. As the name suggests, it helps sealer dry faster – a great quality clients will surely appreciate as it will allow their parking lots or driveways to be used the next morning. It minimizes the disruption to businesses such as fast food chains, dental clinics, doctor's offices, etc. If you are not using fast-dry, you are missing out.
4. Check the weather
Checking the weather is more than just finding out if it is going to rain. The temperature and humidity should also be checked. In different states, moisture and temperature can vary widely. High humidity can affect how sealer dries and influence how you mix it. When mixing sealer, you have to mix it according to the weather.
5. Dispose of debris properly
Properly disposing of debris is just as important to sealcoating during the day as it is during the night. Don't leave rocks and other debris that were blown off the asphalt pile up on the property. It can get caught in the path of landscaping equipment, and those rocks could turn into small projectiles that may shatter windows. By disposing of debris properly, you are doing yourself and your customers a favor.
Sealcoating at night can be very lucrative to most asphalt maintenance businesses. Not only will you be able to extend operating hours to accommodate more customers, but also improve convenience for your clients. For instance, a parking lot is usually empty in the evening, meaning sealcoating is less likely to disrupt the business operations of your clients. Providing such services can give you an edge over your competitors. If you want to learn more about night sealcoating, check out this video.
Are you looking for asphalt sealer, crack filler, sealcoating equipment, crack filling machines, or line striping equipment? Call us at (855) 554-4386 or send a message through our contact page.