Invest in Sealcoating Equipment Now To Survive Supply Chain Problems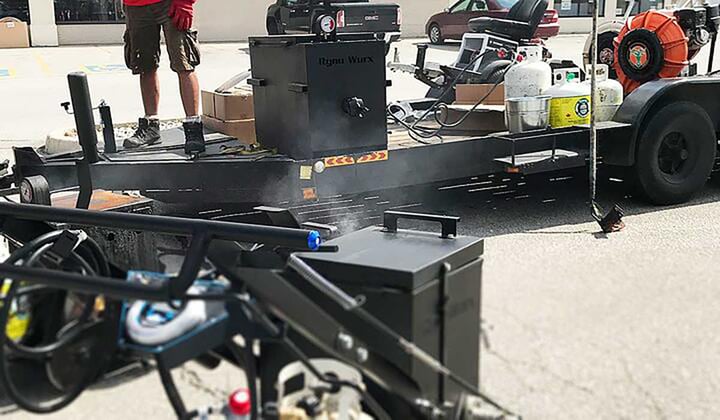 From household products to oxygen to semiconductors, 2020 was a fraught year for businesses and individuals alike. Supply chain issues that disrupted the world first began in February last year, and it was only a matter of time before its effects rippled to the asphalt maintenance sector. Even today, the end is far from sight.
One of the items experiencing acute shortages right now is paint—specifically, line marking paint—thanks in part to the spike in demand from the construction industry and the asphalt maintenance sector. Petroleum production (one of the crucial ingredients in making traffic paint) was greatly affected by winter storms that devastated Texas in February and the ensuing power loss in petrochemical plants.
Another crucial ingredient in line striping paint production is titanium dioxide. Last year, multiple lockdowns shuttered titanium mines, resulting in a significant drop in production that persisted until the current year.
Unfortunately, line striping paint is not the only item in short supply right now. Supplies of natural rubber and steel are still worryingly low, and no one knows when the shortage will end.
These supply chain issues have caused price hikes in asphalt maintenance equipment and supplies, and contractors and consumers are feeling the pinch. For example, shipping a container of raw materials from Asia used to cost $5,000. But this summer saw an eye-watering increase in shipping prices to around $28,000 per container.
Prices on the ground have also become fickle. We were initially quoted a $1,800 fee for a bulk order via overland transport. After three days, the fee was raised to $2,300.
Survive Supply Chain Issues By Planning Ahead
Even the most optimistic market analysts say that these supply chain disruptions and sky-high prices are likely to continue through winter and into the next year.
But that doesn't mean that sealcoating contractors like you can't do anything about it. Your business can survive shortages and rising prices if you prepare for all eventualities. We recommend that you purchase and stock up on the essential crack repair and sealcoating equipment now instead of waiting for the prices to stabilize (which may not happen any time soon). It is also prudent to buy crack fillers and sealants now while they are still relatively inexpensive.
The availability of funds to purchase essential equipment and supplies, of course, is going to be an issue for many contractors. But rest assured that when it comes to financing sealcoating and crack repair supplies and equipment, you always have multiple options to explore.
Related: Asphalt Equipment Investments That Save You Time
You can explore bank financing or use your credit card to fund business-related equipment and supplies. Another option is to apply for equipment financing with the Canada Small Business Financing Program. Check this out for more information on the Canada Small Business Financing Program Guidelines.
But if these options are out of the question, you can always explore private lenders that specialise in equipment financing. Local private lenders function like banks in the sense that they design financing solutions and provide capital for business owners in special situations.
The only difference is that private equipment financing companies are often more lenient than banks when it comes to requirements and they are often partnered with distributors like Action Seal for easier loan facilitation.
If you want to know more about equipment financing options and how to start or expand your sealcoating business, just give us a call at 1-855-554-4386. We're always happy to answer your questions and hear your feedback.