Our Guide on Product Application Temperatures For Sealcoating and Asphalt Maintenance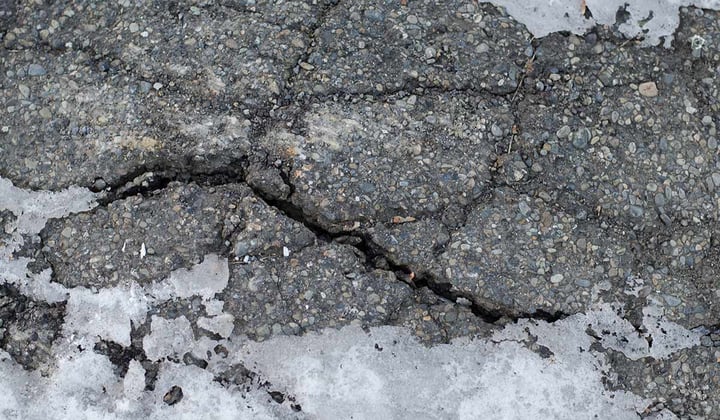 Knowing the best temperatures when applying crack filler, pavement sealer and line striping traffic paint is a key factor in making sure that the outcome is satisfactory and long-lasting. This means that when applied in proper conditions, these products will last a long time. The material won't peel off, flake or crack after a week or a month from application, especially after getting exposed to extremely cold weather.
This handy guide will provide you the most ideal temperatures based on product, so you don't have to rely on guesswork when working on a project.
Temperature Cheat Sheet

Right-click on the image above and "Save As" to save or print.
Recommendations from Our Experts
Pothole Patch
Cracks always start small. However, if left unattended, the constant freeze-thaw cycle will continue to strain the pavement and cause the foundation to grow weak – and finally crumble. Large, gaping holes will start to appear all over the asphalt surface. If not filled or repaired soon enough, these potholes can cause accidents and injuries. Encourage your customers to have these holes filled before they can get even worse or cause injuries and accidents. Inform your clients that this is a smart investment and helps prevent bigger problems in the future. Applying patches will not only prevent further damage to the asphalt, it will also save your customer from having to spend lots of money on repaving or resurfacing.
For small holes up to 2.5 cm deep, use the cold patch asphalt repair. This product is sold in 20-kg. bags and is highly recommended for cold weather repairs as it binds well even on wet asphalt surface. For wide, gaping potholes up to 10 cm deep, the Permanent Pothole Patch is ideal as this product can be used year-round on all types of weather, making it great for repairs even during winter or rainy months. This means that you can patch holes even when seasons are short due to longer winter.
To ensure it sticks, use a hand-held metal-headed tamper and tamp down until the product is compacted properly. However, for large jobs, using a manual tamper can be quite exhausting and it is hard to get a level patch. Use a vibrating plate compactor instead.
For additional info regarding pothole repair, check out our resource page here.
Crackfill
It is commonly believed that sealing cracks can only be done during warm weather, but that is not completely the truth. Even though crack sealing is recommended for warmer temperatures when there is plenty of sun and heat, you can also fill cracks during winter.
When sealing cracks during cold seasons, make sure that the cracks are not moist, since moisture will reduce the sticking factor. Use a hot air lance or torch to heat the cracks up to 5⁰C to 10⁰C. This way, you can seal cracks even if the weather is colder and less than ideal. When using cold-pour crack filler, the ideal surrounding temperature must not exceed 35⁰C to make sure that the product sticks to the walls of the cracks properly. If the crack's temperature is too hot, the cold-pour material can possibly melt and not bind properly.
Hot-pour crack filler is rubber-based and must be heated and completely melted before application. This product can be heated up to 205⁰C, which is the maximum heating capacity of melter kettles. Any temperature that exceeds this recommendation can burn the crackfill and ruin its ability to bond properly on to the cracks.
Crackfill actually dries faster in cold temperatures, which is not a widely-known concept. As long as no rain or high humidity is expected within 48 hours of application, you can seal cracks very early or very late into the season without compromising the product's performance. This way, you can manage your job calendar and schedule sealcoating and line striping during the warmer months.
For more information on filling cracks, visit our crack filling guides for additional tips and recommendations.
Additives
Fass-Dri Additive is a product that helps sealer dry faster. This is highly recommended especially during cold weather months when there is not enough sun's heat to speed up sealer drying times. Additives not only help the sealer bind more properly onto the asphalt surface, they also provide a blacker finish and help improve material dispersion while preventing your machinery from clogging when using sand in your load.
With its Nano-Cure patented technology, Fass-Dri does not need a lot of sun as it generates its own heat and dries the sealer from the bottom up while preventing moisture from getting trapped below the surface. With this product mixed into your sealer, your customers can open their freshly-sealed pavements or parking lots in as little as 30 minutes.
** Pro Tip: To ensure minimal to no tracking when driving over the pavement, allow the Fass-Dri-infused sealer to dry for at least 4 hours or overnight (so long as no rain is forecasted).
Fass-Dri also allows you to apply line striping paint sooner, so you can get the job done faster and move on the next. This product adds flexibility to sealcoating as it extends your season both ways - very early in the spring and late into the fall.
Coal Tar Sealer
To prolong the life and resilience of asphalt, we recommend to apply a fresh coat of coal tar sealer every 2 to 3 years. This helps prevent moisture from getting trapped under the surface which causes brittleness and weakening of the foundation. Although the common practice is to sealcoat only during warmer months or in the middle of the season, it is also possible to do so during cold months. Use additives to help the sealer dry faster without needing too much heat from the sun.
When sealcoating, the most ideal temperature is 10⁰C and rising, but should not exceed 35⁰C. No rain should be forecasted within 48 hours prior to and after application to ensure the most optimal result.
Line Striping Paint
It is beneficial to both you and your customer if you are aware of ideal temperatures when applying line striping traffic paint. Whether it is a restriping job or applying fresh markings to new parking lots and pavements, it is best not to leave things to guesswork. Line striping paint is at its most optimum when ambient temperature is 10⁰C or higher, but does not exceed 49⁰C. If the surrounding temperature is too cold or too hot, the paint can end up looking flaky and feathered, and can easily crack and peel off.
For faster and more accurate road markings, we recommend using stencils. Our industry-grade stencils are regulations compliant and are made with durable LDPE.
Visit our line striping resource page for additional helpful tips and recommendations.
---
This guide is meant to help contractors who are relatively new to the asphalt maintenance industry, however, the information contained here is also highly beneficial to veterans who have years of experience. We encourage that you properly orient your crew to make sure that they follow these industry standards, as these temperature ranges have been tested and proven by experts. Final results may vary a bit due to the products and brands used, however, by adhering to the suggested temperature ranges, you can assure your customer of top-quality results.