3 Essential Asphalt Surface Preparation Tools for Contractors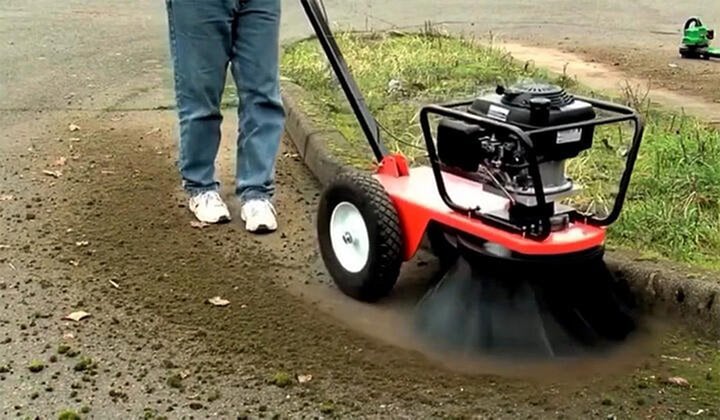 We can never stress the importance of proper asphalt surface preparation nearly enough. Failure to prep the cracked surface properly will only lead to post-repair problems, and you'll have to do it all over again. But are you sure that you're using the right tools for cleaning cracks?
Today, we'll talk about the top 3 asphalt surface preparation tools every contractor needs to have in their arsenal. Let's get started.
Wire Street Broom
The humble wire street broom might seem like a relic for many of us, but don't write it off! You'll probably reach for it more times than you can count over the years.
The wire street broom used for asphalt surface prep features durable wire bristles that scrub dust, weeds, and loose asphalt from cracks.
And because it only requires elbow grease (plenty of it, actually), it is suitable for homeowners who plan to do crack repairs by themselves or contractors who work on small to mid-sized driveways. It is also part of the starter packs for contractors that don't have the budget to invest in walk-behind power brooms right now.
Gas-Powered Crack Cleaning Machine
The crack cleaning machine is designed for maximum efficiency. It comes with an 8" wire wheel that spins rapidly while cleaning cracks, ensuring that you can prep the surface of a vast parking lot in just a few minutes.
Because of its efficiency, it is ideal for contractors who maintain large commercial properties. These include parking lots in churches, shopping malls, stadiums, universities, hospitals, and more.
Once all the weed and dust are removed from cracks, you can now use a Billy Goat blower to blow dirt away.
Heat Lance
Weeds are some of the most stubborn plants on earth and sometimes, uprooting or using a wire street brush simply won't cut it. If you've been using a crack cleaning machine in uprooting weeds and you're finding it ineffective, then use a handy heat lance.
Once the weeds are scorched to the ground, the heat lance then blows the remainder away with compressed air.
Before You Overdo It...
Cleaning that crack thoroughly is necessary, but that doesn't mean you should overdo it. Don't clean it too deeply, or you'll be putting in a lot more crack filler than necessary, wasting material, and hiking the total maintenance cost for you and your customer.
We also don't recommend pressure washing the cracks. Remember that crack filler bonds better to the seams when the area is completely dry so take it easy on that pressure washer and use a broom instead.
Troubleshooting Surface Prep Problems
What if someone in your crew cleaned the crack too deep or pressure washed the area? Don't fret because you can do something about it.
A deep crack can be fixed simply by filling it with sand and applying a crack sealer half an inch deep.
Damp cracks are also easy to fix. Use a Tiger Torch to dry the area before using a gas-powered blower to remove weeds and dust.
Action Seal is here for all your asphalt driveway repair needs. If you have queries or concerns about our products or resources, just give us a call at 1-855-554-4386 or leave us a message here at our website.