Finish the Canadian Asphalt Maintenance Season Strong With These Helpful Tips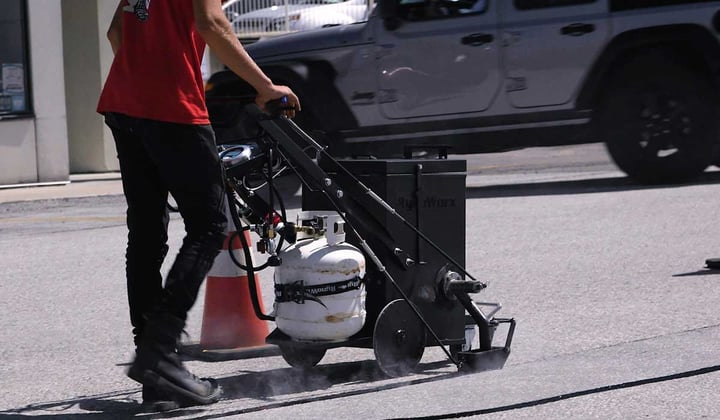 It's said that in Canada there are two seasons: winter and construction. With the tough winter season looming, many asphalt maintenance contractors are racing against the changing weather to finish up their most pressing jobs while the sun shines.
As any successful contractor will know, September is an absolutely vital month in the Canadian asphalt maintenance industry, providing a valuable window to boost business before the onset of winter.
Watch as industry veteran Kevin Gray tells us exactly what his company is doing to pivot his company to hit his goals this season.

If you're a one-man band or a smaller company, you may be looking for other actions you can take to increase your revenue.
Since most asphalt maintenance jobs are heavily dependent on the ambient temperature, opportunities to complete work during the cooler months are few and far between.
There are two big opportunities for saving:
Opportunity 1: Crackfilling
Buy enough crack filler to get you through all your fall jobs without sitting around waiting for deliveries, or taking days off work to drive to pick up more supplies. Buying in bulk means that you save money on every box, so buying a pallet or multi-pallet supply means more money in your jeans at the end of the season. September offers a crucial last opportunity to earn top dollar, so getting well stocked-up on materials in advance is more than worth it.
Opportunity 2: Sealcoating
If your customers understand that a freshly sealcoated parking lot attracts the winter sun and helps to melt off snow and ice, then you may still be sealcoating.
Again, buying a pallet instead of a single drum offers you significant savings – both in a per-drum cost, but also in time running back and forth to the sealcoat plant.
Unfortunately, many contractors hold back from investing in adequate supplies due to a range of understandable yet partly unfounded fears. But don't let fear hold you back from giving your business the all-important pre-winter boost it needs this year.
Let's explore a few of the most common worries and how to tackle these for your most prosperous and productive September on record!
1. You're afraid of laying out the cash
Of course, this is a very legitimate fear. Forking out cash up front without being sure how it will pay off is always scary. However, the likelihood is that this initial investment will prove valuable. Allow yourself to get as many jobs as possible completed to keep your business afloat over winter, without a lack of supplies holding you back. If you try to scrimp and save by only buying what you need the minute you need it, you'll miss out on opportunities to make all of your remaining hours billable hours.
Besides, with September being your customers' last chance to protect their asphalt for the upcoming cold months, there is unlikely to be any shortage of good-quality jobs.
2. You don't think you can get the job done
It's hard to fit everything in when there is a time crunch, and you may think that you aren't going to get to everything before Thanksgiving anyway. But instead of compounding your problems by having to take a trip to the store for every new job, plan ahead so that you're only receiving deliveries or picking up once, and then centrally locate your supplies for easy fast access at the beginning or the end of your day.
If hiring is your challenge, consider looking in unusual places where people who work long shifts might have big stretches of time between jobs (think: firemen) where they can dedicate a few days a week to you to help you through. It's perfect for short-term crunches.
3. You don't know where to store things
This is a common concern and it might take a little creativity.
Asphalt sealer needs to be stored in a heated building to prevent freezing. Garages, barns, or storage facilities are a great option here.
Rubberized crack filler, on the other hand, was designed to withstand the elements. It can be kept in an unheated building – shed, lean-to – whatever you have available. Our crack fill carries a shelf life of five years, so if you have space to store it, you can definitely save money by stocking up in advance.
---
With planning, preparation and smart investment in the right supplies, September can be a very profitable month for your business and set you up for a very comfortable off season. Relieve the pressure this winter by taking time to maximise your earnings in this crucial and highly valuable time period.
What would your top tips be for an asphalt contractor looking to set themselves up for a great winter season?
VIDEO: THE SECRET TO GROWING YOUR BUSINESS
Bring in sales without knocking on doors!
In this 16 minute video you'll hear Judd Burdon of Action Seal and John Evans of Everline Coatings explain a sales technique that's sure to put your business growth in high gear!