How Long Do You Need To Wait Before Using Your Driveway After Sealcoating?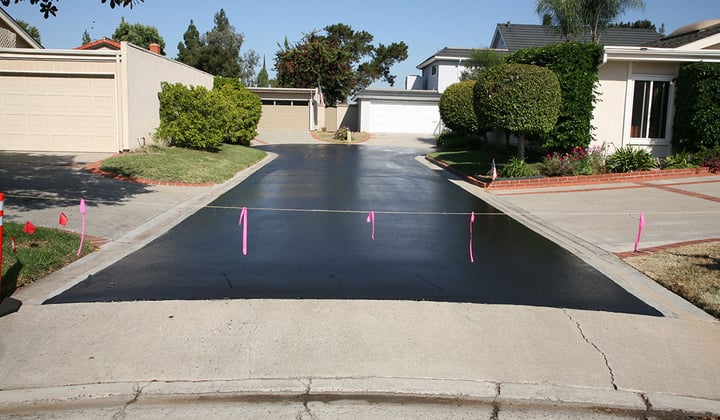 Nothing looks better than a freshly sealed driveway or parking lot. But sometimes you or your customers get so excited to use it right away that you forget that sealcoating needs several hours to fully dry and cure.
FREE Download: Asphalt Maintenance Proposal Template
But how long should you wait before using your driveway again after applying sealer?
The answer is quite simple.
Under ideal conditions, sealcoating dries and cures 12 hours after application. But if you want to make sure that it has fully dried and cured and there's no risk of damaging it, then it's best to stay off the driveway or parking lot for at least two to three days.
Different Factors Affecting the Drying and Curing Process
Precipitation
If you want asphalt sealer to dry and cure quickly, then make sure to work or have your sealcoater do the job when you're expecting fair weather. It's best to apply sealcoating when it hasn't rained for the past couple of days or so.
You should also check the daily forecast to make sure that it will not rain a day or so after you have applied asphalt sealer.
We recommend that you check your weather app before heading out to work. When applying sealcoating, always make sure that the temperature doesn't fall below 10°C and doesn't go beyond 49°C.
Humidity
Another factor that can greatly affect the length of the drying and curing process is the area's humidity.
Unfortunately, the higher the humidity, the longer it takes for sealcoating to dry. When it comes to sealcoating, it's always best to work when the humidity level dips below 60%.
Want to check the area's humidity before heading out to work? Simple use Google or your favorite weather app to check.
Related: Our Guide on Product Application Temperatures For Sealcoating and Asphalt Maintenance
The Amount of Moisture Present on the Pavement
Another bad news is that it's going to take a long time before the sealcoat fully dries and cures if the pavement is wet before application.
To prevent wasted trips and wasted sealcoating materials, always check your weather app to see if it has rained in the area over the past few hours. If you're still unsure, you can always give the property owner a call to ask.
Speeding Up The Drying Process
Most of the time you'll have nothing else to do but wait after applying sealcoating to the pavement. But if you're working in a pretty busy area (a supermarket or airport parking lot, for example), then, of course, time is of the essence and you might want to speed things up a bit.

The good news is you can accelerate the drying and curing process with our Fass-Dri Pavement Sealer Additive. This product features proprietary nano-cure technology that ensures shorter drying and curing time so you can use your driveway as soon as possible.
Want to learn more about the Fass-Dri Pavement Sealer Additive and other fantastic sealcoating supplies and equipment? Then reach out to us at 855-554-4386 or browse the Action Seal store for more.