9 Protective Equipment and Supplies for Sealcoating and Crack Repair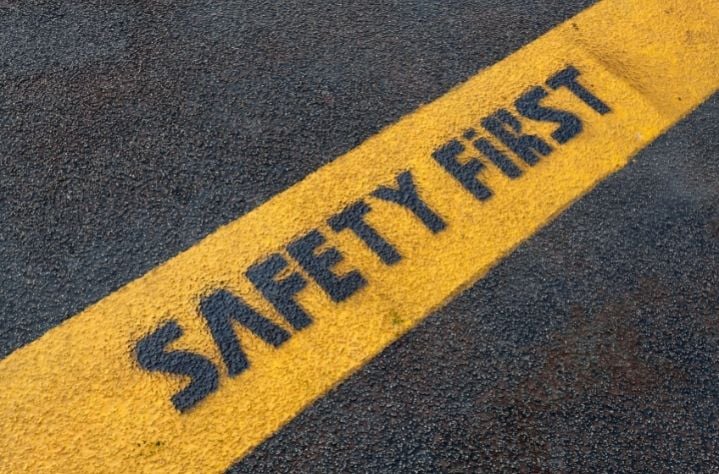 Sealcoating may not be as dangerous to other property maintenance jobs like roofing and construction. But that doesn't mean you get a free pass on not enforcing a stringent workplace safety protocol. Remember, injuries and death can still occur, and often it happens when you least expect it.
Before a workplace-related accident happens to you and your workers, you should have this must-have sealcoating and crack repair safety checklist.
Personal Protective Equipment
Sealcoaters typically wear a simple pair of jeans and a t-shirt while working.
Some may even wear running shoes instead of work boots. They don't even have masks, gloves, and other protective gear. If it weren't for their company logo on their top, you wouldn't have guessed what they're doing and who they are working for!
Worst, cotton and jeans offer little protection against the smouldering temperatures of asphalt products. So, what personal protective equipment should your team have? Here are some of them:
1. Coveralls or Long-Sleeved Shirts and Long Pants
The first thing you need to invest on high-quality and durable coveralls for your team. This personal protective equipment is necessary since handling rubberized crack filler and coal tar sealer is unavoidable in your line of work.
When melted hot pour rubber crack filler comes in contact with the skin, it can lead to painful and nasty burns. On the other hand, coal tar sealer can result in skin irritations. So, as much as possible, everyone in your team should have full-body coverage.
So, what coveralls should you buy or look for? You should avoid white and other light-coloured overalls because stains are more visible. Aim to purchase coveralls in black or dark gray. You can also get dark navy-coloured coveralls.
Coveralls are also available in different sizes and fabrics. Make sure that whatever you are getting is comfortable for your team since they'll wear it all day.
Another great thing about coveralls is you can have a logo and contact number printed on it. Think of it as free marketing! Neighbours can quickly identify your business the next time your team is working on a driveway asphalt repair.
If the cost of coveralls is not in your budget, the best alternative is to provide your workers with thick long-sleeved shirts and pants.
2. Safety Vest
The reality is you're not always going to work at a residential driveway or a parking lot. There is a chance that you'll take on a project that involves repairing cracks next to traffic. To increase visibility during broad daylight and nighttime, you can provide workers with high-visibility safety vests. This personal protective equipment can be worn over the coveralls.
3. Asphalt Boots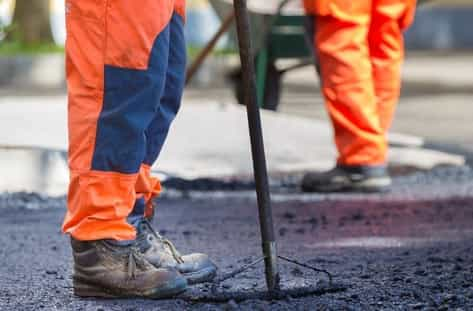 Asphalt boots are not your regular running shoes. They are specifically made to withstand hot substances and chemicals. There are even pairs of asphalt boots with anti-skid outer soles to prevent slipping. Others even have steel safety toe caps that add extra protection for your toes if you accidentally drop a heavy tool on your feet.
If you want the best asphalt boots for your team, you should look for the following:
Slip-resistant outsoles with steel toe caps
Can withstand high temperatures
Water and chemical proof materials
4. Safety Glasses and Goggles
Next on our sealcoating and crack repair safety checklist are safety glasses and goggles. These protective equipment are necessary since spraying sealcoating can splash into your eyes. It is also convenient to have when preparing the pavement with a gas-powered leaf blower or other crack cleaning equipment.
5. Heat-Rated Gloves
As mentioned, asphalt products are handled and mixed at extreme temperatures. So, you should provide workers with heat-rated gloves. Nitrile-coated gloves are okay to use as long as the job only involves sealcoating. But, for work that requires handling hot equipment, a pair of heavy-duty heat-resistant gloves can prevent burns.
Safety Supplies
Aside from investing in personal protective equipment like gloves, coveralls, and asphalt boots, it's always a good precautionary measure to have the following supplies inside your asphalt truck.
6. First-Aid Kit
Despite following safety protocols and wearing the best PPEs, accidents and injuries can still occur on-site. By having a first-aid kit inside your truck, you can immediately provide relief for burns, cuts, and other minor injuries.
7. Fire Extinguisher
In asphalt maintenance jobs, working with fire and combustible materials is unavoidable. So, you should always have a working fire extinguisher on-site. And remember to check the fire extinguisher's tag if it's still deemed usable.
8. Eyewash Flush Kit
Eyewash kits are available in most pharmaceutical retail stores or online. Choices can vary from a single bottle eyewash station to a portable eyewash with a drench hose.
9. Hand Cleaner / Sanitizer
We don't recommend handling sealcoat or crack fillers with your bare hands because they are sticky and hard to remove. If you have some splatters on your skin, you can use a special hand cleaner to remove the traces.
Need More Help?
Work safety should always be a priority. We hope our sealcoating and crack repair safety checklist can encourage you to adopt a safer workplace environment for you and your team. If you need more help expanding your asphalt maintenance business or have a question about asphalt equipment and supplies, you can reach Action Seal's friendly customer service representatives at (855) 554-4386